Sterling Silver and Eilat Stone Menorah Ring With Jerusalem Inscription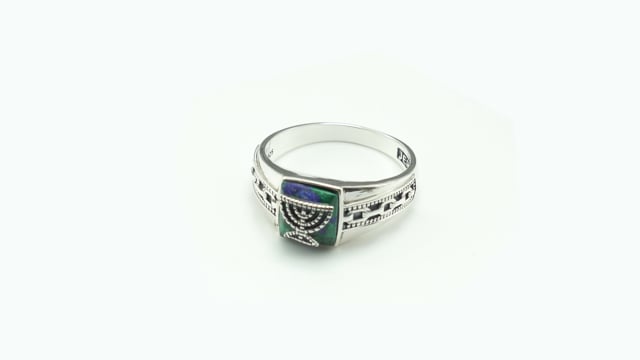 ▶
Click the image to open expanded view
In stock
Add a special touch of faith to your personal jewelry collection with this remarkable designer ring from Marina Jewelry:
Made from sterling silver, this ring is set with a cut of Eilat Stone that is topped by a sterling silver Menorah design and is accented with a chic chain design. The inside is embossed with the word "Jerusalem."
An original work from the Land of Israel.
No matter the occasion, this ring will make a fantastic addition to any ensemble that you choose to wear!!!
The world's biggest Judaica store
Home to thousands of fantastic Judaica products!
Money-back guarantee
Satisfaction guaranteed – or your money back!
Worldwide shipping
From Israel with Love!
Details
925 Sterling Silver, Eilat Stone
Width: 0.39" / 0.99 cm
Enrich your wardrobe with this magnificent ring from Marina Jewelry. Crafted from sterling silver, this ring is set with a beautiful cut of Eilat Stone and is topped with a stylish Menorah design. The band is marvelously decorated with a chain motif while the word "Jerusalem" is written on the inside and set against a dark background. A beautiful blend of traditional faith and contemporary style, you will love wearing this ring every chance you get for many years to come.
The rare Eilat Stone is Israel's national stone, and is named after Israel's southernmost city where they were discovered near the Red Sea in the copper mines of King Solomon. The stone, in fact, is often referred to as "King Solomon Stone." 
It possesses deep beautiful shades of green and blue color and is known for its powerful spiritual energies that stimulate loving feelings and transform negativity into positivity within your surrounding environment. Furthermore, similar to the diamond, every Eilat Stone has its own unique variance of cut, color and weight, so the stone you choose is yours alone.
Founded in 1983, Marina Jewelry is one of Israel's premier creators of exquisite Jewish jewelry. Her combination of exceptional semi-precious stones and stunning Judaica-themed designs has earned her widespread accolade, and her pieces are sold in chains and boutiques across the world. Beautiful, contemporary and flawless, Marina Jewelry pieces are guaranteed to make fabulous gifts to the people you love most.
FREQUENTLY PURCHASED TOGETHER