Marina Jewelry 925 Sterling Silver "Shema Yisrael" Bracelet - Deuteronomy 6:4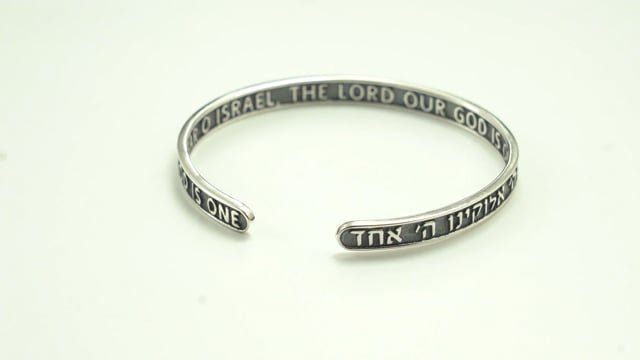 ▶
Click the image to open expanded view
In stock
Whether you are dressing for a busy day at the office or for a fun night on the town, complement any outfit in your wardrobe with this gorgeous designer bracelet from Marina Jewelry:
Made from sterling silver, this darkened bracelet is embossed on the outside with the classic Jewish expression of faith, "Shema Yisrael" and is embossed on the inside with its English translation.
An original blend of faith and fashion from the Land of Israel.
Both stylish and meaningful, this bracelet is a must-have for your personal jewelry collection!!!
The world's biggest Judaica store
Home to thousands of fantastic Judaica products!
Money-back guarantee
Satisfaction guaranteed – or your money back!
Worldwide shipping
From Israel with Love!
Details
925 Sterling Silver
Size: 0.213" x 0.073" / 5.41 mm x 1.85 mm
Display your faith throughout the day with this sterling silver bracelet from Israeli designer, Marina Jewelry. Set against a gray background, this bracelet is stylishly embossed with the traditional Jewish expression of faith (Deuteronomy 6:4), "Shema Yisrael Hashem Elokeinu Hashem Echad" ("Hear O Israel The Lord Our God is One") in both Hebrew and English. From the Land of Israel, this bracelet is a wonderful blend of faith and fashion that you will certainly cherish for many years to come.
Founded in 1983, Marina Jewelry is one of Israel's premier creators of exquisite Jewish jewelry. Her combination of exceptional semi-precious stones and stunning Judaica-themed designs has earned her widespread accolade, and her pieces are sold in chains and boutiques across the world. Beautiful, contemporary and flawless, Marina Jewelry pieces are guaranteed to make fabulous gifts to the people you love most.
FREQUENTLY PURCHASED TOGETHER