Marina Jewelry Silver Cut-Out Ani Ledodi Ring with Translation - Song of Songs 6:3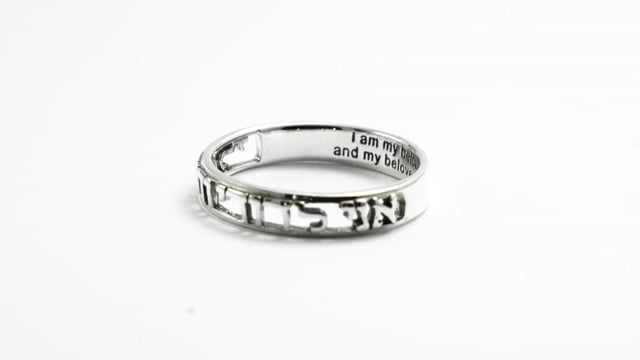 ▶
Click the image to open expanded view
In stock
For a symbol of the deep and abiding love that exists between you and that special person in your life, check out this amazing designer ring from Marina Jewelry:
Crafted from sterling silver, the outside of this ring boasts a cut-out of the classic Biblical expression of love, "Ani LeDodi" as the inside is engraved with its English translation, "I am for my beloved."
An original design from the Land of Israel.
Will make a fantastic gift for a birthday, engagement, anniversary, holiday or any other special occasion.
The world's biggest Judaica store
Home to thousands of fantastic Judaica products!
Money-back guarantee
Satisfaction guaranteed – or your money back!
Worldwide shipping
From Israel with Love!
Details
925 Sterling Silver
Width: 0.15" / 4mm
This unique Jewish ring is half solid and half cutout, making for a special gift the special someone in your life is sure to love! The front cutout section is filled with gleaming Hebrew letters which spell out the classic Hebrew expression of love: ani ledodi vedodi li. The translation is engraved into the inside of the band - I am my beloved's and my beloved is mine (Song of Songs 6:3). Beautiful and unusual, it will make a wonderful gift.
These rings are designed to stack! Simply pair with other slender stacking rings by selecting others from this range and custom-create a gorgeous gift for someone you love.
The ring is suitable for men or women and is available in a choice of sizes.
Founded in 1983, Marina Jewelry is one of Israel's premier creators of exquisite Jewish jewelry. Her combination of exceptional semi-precious stones and stunning Judaica-themed designs has earned her widespread accolade, and her pieces are sold in chains and boutiques across the world. Beautiful, contemporary and flawless, Marina Jewelry pieces are guaranteed to make fabulous gifts for the people you love most.
FREQUENTLY PURCHASED TOGETHER