Sterling Silver and 9K Gold Shema Necklace with Nano Tanach Inscription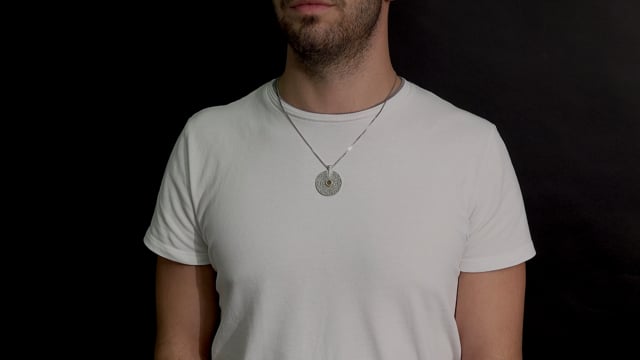 ▶
Click the image to open expanded view
In stock
Add a touch of spirituality to your wardrobe with this outstanding, micro-inscribed necklace: 
Designed on a beautiful disc of sterling silver and an inner border of 9K gold of a lovely pattern.
Plated with the special Shema prayer, beginning with Shema Yisrael, Hashem Elokeinu, Hashem Echad (Deuteronomy 6:4-9).
Amazing addition to any look, with the entire Tanach micro-inscribed in the center, making an extraordinary gift for someone special in your life!
The world's biggest Judaica store
Home to thousands of fantastic Judaica products!
Money-back guarantee
Satisfaction guaranteed – or your money back!
Worldwide shipping
From Israel with Love!
Details
925 Sterling Silver
Height of pendant: 1.5" / 3.8 cm
Width of pendant: 0.7" / 1.8 cm
Comes with sterling silver chain in your choice of length
Suitable for both men and women
Surround yourself with the Shema blessing and the Tanach (Bible) with this incredible nano-technology, micro-inscribed necklace from the Land of Israel. Designed with sterling silver and 9K gold, and engraved with the famous declaration of faith, the Shema (Deuteronomy 6:4-9). The center contains an outstanding micro-inscription of the entire Tanach to carry the sacred Torah text with you. One nano Torah letter is 600 nanometers wide compared to UV wavelength which can be up to 400 nanometers. A nanometer to a meter is compared to a marble in relation to the earth! The super technology has a similar process to photo etching, using aluminim engraving onto silicon. Accentuate any look, no matter the occasion with this meaningful and incredbily stylish necklace for years to come!
This necklace comes packaged in a luxury gift box (as shown above). It also includes a magnifying glass so you can clearly see every exquisite detail on your new necklace.
Nano Jewelry is a contemporary Israeli jewelry company that is inspired by the contrasts between the bustle of everyday life and the call to religion. Working hard for over two decades to produce classic, innovative, and long lasting jewelry, Nano's collaboration of scientists and jewelry designers work as a team to forge unique pieces of Bible jewelry using high-resolution imprint technology. Designed and handcrafted in Israel, these high quality pieces of jewelry will make meaningful gifts for those you love the most!