Art in Clay Limited Edition Handmade Ceramic Shema Yisrael Plaque Wall Hanging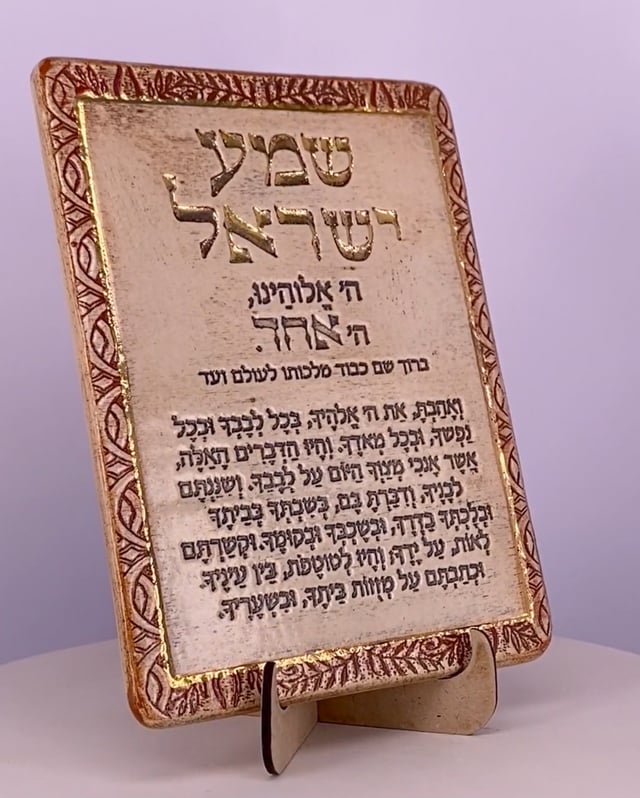 ▶
Click the image to open expanded view
In stock
Add a stunning touch of faith to any wall in your home with this exquisite wall hanging from Art in Clay:
Made from ceramic, this stellar work features the classic Hebrew declaration of faith, Shema Yisrael, along with the verses that accompany it.
Handcrafted by skilled artisans in the Land of Israel.
This plaque comes with a luxury gift box, display stand and information booklet about the artist. 
The world's biggest Judaica store
Home to thousands of fantastic Judaica products!
Money-back guarantee
Satisfaction guaranteed – or your money back!
Worldwide shipping
From Israel with Love!
Details
Handmade in Israel
Limited Edition
Ceramic, Glazing
Size: 17cm x 12cm / 6.7" x  4.7"
The first verses of the 'Shema' the principal Jewish declaration of faith recited down through the generations to this day, is beautifully displayed here in Hebrew on a delicate handmade ceramic plaque. The words read:
"Hear O Israel, The Lord is Our G-d, the Lord is One".
"Blessed Be the Name of His Glorious Kingdom forever and ever".
"And you shall love the Lord your G-d with all your heart and with all your soul and with all your might, And these words that I command you today shall be in your heart. And you shall teach them diligently to your children and you shall speak of them when you sit at home, and when you walk along the way, and when you lie down and when you rise up. And you shall bind them as a sign on your hand, and they shall be for frontlets between your eyes. And you shall write them on the doorposts of your house and on your gates".
The plaque is delicately handcrafted and painted, glazed at a high temperature, and features 24K gold decorations, all combined to create a truly stunning and special work of art. The plaque can be hung on the wall or can be placed on the accompanying stand, and comes with a unique serial number and stamp of authenticity on the back. Packaged in a beautiful box, the plaque is also accompanied by an information booklet about the artist. An elegant mix of Jewish tradition and contemporary artistic design, this plaque is a unique masterpiece that would make a stunning addition to your home décor.
Please note: As each piece is hand-painted and unique, there may be slight variations in the colors. Please allow up to 14 business days for this item to be made before shipping.  
Art In Clay is a family-run art studio in Jaffa-Tel Aviv, founded in 2008 by Israeli artists, Amir Rom and his wife Laurence, both graduates of the prestigious Bezalel Academy of Art and Design. Specializing in the production of handmade ceramics that bring together modern designs and ancient Jewish tradition, Art In Clay's work draws inspiration from the Land of Israel, the Bible, and archaeological findings. Their work has earned them high regard and they were commissioned by the US Government to design special pieces in honor of the opening of the US Embassy in Jerusalem in May 2018.
FREQUENTLY PURCHASED TOGETHER