Sterling Silver Shema Yisrael Open Ring With Star of David & Pomegranate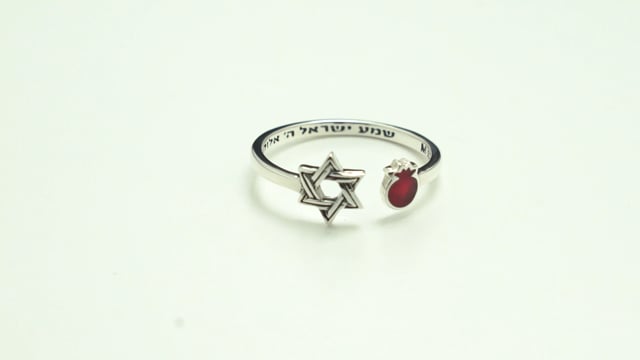 ▶
Click the image to open expanded view
In stock
Combine all your favorite Jewish symbols in one with this lovely  sterling silver ring: 
Fashioned with an opening in between a beautiful red enamel pomegranate and Star of David. 
Contains the famous declaration of Jewish faith, the Shema (Deuteronomy 6:4).
Outstanding gift for someone you know who loves their Judaism and jewelry!
The world's biggest Judaica store
Home to thousands of fantastic Judaica products!
Money-back guarantee
Satisfaction guaranteed – or your money back!
Worldwide shipping
From Israel with Love!
Details
925 Sterling Silver, Red Enamel
One Size Fits All
Add a unique touch of faith to your wardrobe with this unique and stylish open ring from Marina Jewelry. Skillfully crafted from sterling silver, the inside of this ring is inscribed with the classic Hebrew expression of faith (Deuteronomy 6:4), "Shema Yisrael Hashem Elokeinu Hashem Echad" (Hear O Israel, Our Lord is God, Our Lord is One), while the two ends of this ring are decorated with traditional Jewish symbols. One end features a polished Star of David while the other end features a red enamel pomegranate (one of the seven species with which the Land of Israel is blessed and a symbol for the Torah). Beautifully blending together various Jewish religious motifs, this ring will make a wonderful addition of both style and symbolism to your personal jewelry collection.  
Founded in 1983, Marina Jewelry is one of Israel's premier creators of exquisite Jewish jewelry. Her combination of exceptional semi-precious stones and stunning Judaica-themed designs has earned her widespread accolade, and her pieces are sold in chains and boutiques across the world. Beautiful, contemporary and flawless, Marina Jewelry pieces are guaranteed to make fabulous gifts to the people you love most.